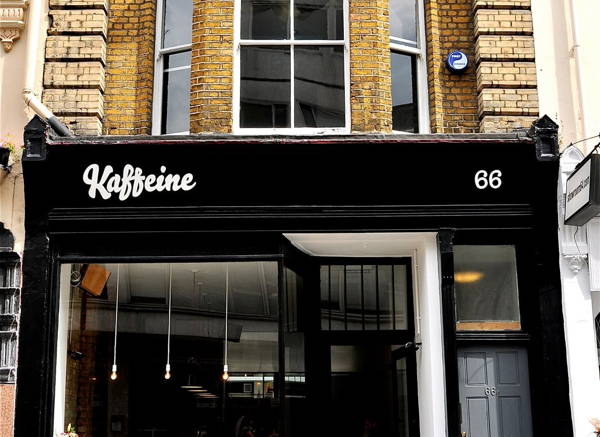 We've been to a few coffee shows and events over the years, but never have we seen or heard of the indomitable Peter Dore-Smith talking at one (of Kaffeine fame). That changed this year, with Peter presenting in the "Start Up" track at Caffè Culture (2018).
The session, It's not a coffee business, it's a hospitality business, could come across a little rebellious at one of the more specialty focussed events, but with Caffè Culture being a little more operationally focussed, it slipped through without raising too many eyebrows.
Still, even writing this up, we can't help but feel a little residual shock from when the founder of one of Europe's most well-known coffee shops stood there and told the world he can still only make a passable coffee and the two Fitzrovia destination shops are not coffee shops at all, but hospitality concepts.
Growing up in the Eastern burbs of Melbourne, the opportunity odds were not always stacked in Peter's favour. Around the time he needed to be thinking about what to do after school and college, he turned to restaurant and bar work where a sparking adrenaline rush ignited a passion in him for the act of looking after people and making them happy. Since that point he has dedicated his career to the friendly and generous reception of visitors and guests.
Arriving in London for the first time in 1995, he spent 3 years moving between catering and hospitality jobs: he's been a waiter at the Queen's Garden Party, served on the Orient Express and waited in Claridges. A subsequent, and definitely more permanent, trip to the UK in 2005 ultimately led to the inaugural Kaffeine on Great Titchfield St. and then more recently in 2015 the second branch on Eastcastle St.
With an ambition of "start the best coffee shop in the local area", how exactly did Peter Dore-Smith succeed so spectacularly that his creation was voted best European Independent Coffee Shop (Allegra) within a year of opening?
Hard work and look after people. Simple, right?
The definition is certainly simple, but the grit and determination needed to follow through on all elements of hospitality require a real commitment to a vision.
Between the two Kaffeine shops, roughly 1,100 people a day experience this vision. Do they notice all the small things? Probably not, but it's hard to not feel looked after when you visit.
By paying attention to the 5 senses of your customer, Peter believes you can establish a hospitality experience that has a real positive impact on people's day and make them walk out the door happier than when they walked in.
Small, but compounding, details make all the difference. Some of this is well known in the industry: ensuring that the coffee cup handle is always served to the customer on the right hand side and that latte art is facing them.
For Peter, though, it doesn't stop there.
The pointy bit of a cake slice should be served facing you, because that's the best bit, the food offer has been tweaked following critical feedback from trusted friends, the music is chosen and set to create the right atmosphere and everyone gets a glass of water brought to them.
Whilst Peter can still be found in one of his shops day-to-day, it hasn't been possible to do this without growing the right team. As with any hospitality brand, hiring and staff retention create challenges, but a few guiding principles have helped retain a team that get hospitality.
A firm believer, in Danny Meyer's "51% rule", Peter pays extra attention to personality in his hiring process:
"When evaluating potential hires, 51 percent of the weighting is given to emotional intelligence, and 49 percent to technical skills."
Once hired, though, Peter leads by example and works to inspire and motivate the team with his commitment to hospitality. It's not just motivation for motivation's sake, though, the team need to respect themselves and others.
Doing it like Kaffeine
There's no doubting the success of the Kaffeine brand. It's not every coffee shop where the customer behind you says "I read about you in the FT (Financial Times)", but how can you start to pivot your coffee business to be a hospitality business?
Pay attention to all aspects of your customer's experience (sight, sound, taste, smell) - overlooking one could have the same consequence of overlooking all

Build your team by prioritising emotional intelligence above technical skills

If you're an owner, manager or shift leader then set the right example for your team to follow

Speak to and solicit feedback from your customers

And to keep you focussed and motivated after a manic service:

Celebrate the small victories
Remember, the coffee is only part of the experience!
Image courtesy of Kaffeine's Facebook Page